This article, Resui, is property of Chix777.
Resui
Kanji

 冷水

Rōmaji

 

Alias

Freezing Mage, Water Dragon Slayer

Characteristics

Race

Human

Birthdate

May 05, Unknown Year

Gender

Male

Age

28

Height

190 cm

Weight

79 kg

Eye Color

Red

Hair Color

Black

Blood Type

A+

Unusual Features

 

Professional Status

Affiliation

Pirate Bandits

Occupation

S-Rank Pirate Mage

Team

 

Partner

 

Base of Operations

Personal Status

Relatives

 

Abilities

Magic

A master of the high seas, Resui (冷水, Cold Water) is a master Pirate Mage. Growing up alone, he was taken in by the Water Dragon, as he learned how to use its abilities. He would survive the training, and become a Water Dragon Slayer, the fate of his dragon friend is unknown, but it is suspected it dissappeared. After this disappearance, Resui would be drawn into the Underworld, and take up the trade of the Pirates. Causing havoc across the seas, many wonder what Resui's true goal is. However, to the smartest of all, it seems Resui's havoc causing is all part of a bigger plan, to locate his parent once more.
Appearance
Edit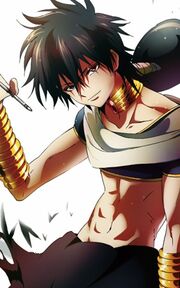 A man of grandeur, Resui stands tall. Over 6 feet tall, he can seem opposing to most. With a full head of brown hair, tied back in a ponytail, Resui stands out in appearance. Resui sports pale red eyes, and fair skin, as well as quite a number of jewelry items, more specifically golden rings. He wears these around his neck, and around his forearms, and these are hinted to help him in magic casting.
As for major attire, Resui sports a black half-shirt, stripped golden like his rings. Over it, he wears a white shirt, that he wears up to reveal his midriff. Incredibly fit, his abdominables are easily seen, as well as his arm muscles. He wears black baggy pants to complete his attire, and is usually barefoot, or wearing snadals. 
He seems to carry a silver short staff with him, that can grow in size, and/or transform into a trident using stored magic power within it. It is hinted his rings can also transform, stored with magic particles.
Personality
Edit
Background
Edit
Synopsis
Edit
Treasure Hunt
Edit
Battle with the Magic Guilds
Edit
Magic & Abilities
Edit
Many consider Resui powerful, as his very name draws fear into the hearts of those who even dare to thing of opposing him. As a Dragon Slayer, his name preceeds him. He is essentially reputed as a water master, due to his prowess in his dragon slayer magic, and the magic of water. Resui is also skilled with tools, and a unique kind of combat.
Mastery of Pirate Trade:
Staff & Trident Prowess:
Water Dragon Slayer Magic:
Appearance is taken from Fudal of the Magi Series.